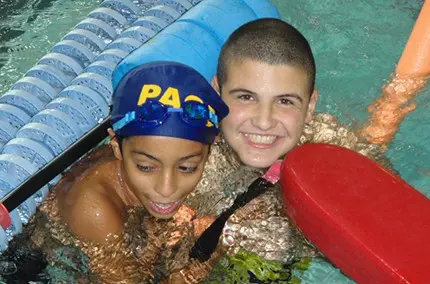 SWIM CAMP ─ SWIM DEVELOPMENT SAFETY & MORE
With over 20 years of instructional experience in Westchester, it is our mission to improve every camper's swimming abilities. Incorporating the American Red Cross Learn to Swim program, teachers and  coaches provide each swimmer with the opportunity to improve their comfort, endurance, and technique in our 25 yard NCAA pool. Swimmers also learn fundamental snorkeling and diving skills to enhance their aquatic experience. To round out their day, campers participate in fun and engaging dryland activities.
Westfair Swim Camp focuses on individual skill development and water safety for all swim levels. Swimmers will be instructed in small groups of similar age, skill, and experience for an optimum learning environment. Lesson plans are formatted in logical progressions guided by the American Red Cross Curriculum.
The focus for the higher level swimmers is the refinement of the competitive strokes, cardiovascular endurance, starts and turns as well as techniques to increase efficiency and speed. This group also enjoys Fundamentals of Lifeguard Preparation, development of their own "photographic eye" for aiding with lessons, and review of their personal strokes and development.
Westfair Swim Camp staff includes seasoned American Red Cross Water Safety Instructors, Lifeguards,  swim coaches, and professional teachers selected not only for their expertise in teaching aquatic skills but also their ability to provide exceptional role models for our campers.
The camp's emphasis is swimming, but additional dryland activities are included, such as field games, fun fitness, and a special activity that changes daily. Campers return each year because parents see a noticeable difference in their swimming abilities, and campers have fun in a safe environment.
Complete printable form and mail in with check
Mail-in Registration Form
Answer: Yes, extended camp care is available before and after camp.